Biography of Chris Harp


Chris Harp is an organic beekeeper, "Bee Doctor", beekeeping teacher and co-founder of HoneybeeLives. He has been tending is own hives in New Paltz, NY for twenty years, expanding his naturalist and biodynamic approach to tend approximately 200 colonies in locations in New York, New Jersey, Connecticut and Vermont, for both individuals and organizations, including Sprout Creek Farm in Poughkeepsie, and CSA farms Phillies Bridge and Taliafero's in New Paltz.

Harp's work as a "Bee Doctor" comes from a deep caring and concern for the fragility of the Honeybee population, and a profound respect for the structure of their collective lives and their impact on the health of Mother Earth. Harp's goals are focused on the wellbeing of the colonies he nurtures, and through teaching others he raises the awareness of and caring for these amazing creatures.

Harp's organic/naturalistic methods, and unique hive designs, have developed from his years of working with, and listening to, Honeybees. He evolved from his conventional methods of beekeeping after learning a biodynamic approach from Gunther Hauk at the Pfeiffer Center. The Pfeiffer Center and other venues in New England now host HoneybeeLives' intensive beekeeping workshops.

HoneybeeLives' in-depth workshops for beekeepers, nurtures beginning beekeepers and encourages veteran beekeepers to adopt a naturalist approach.
Chris Harp has served on the Board of Directors for the Catskill Mountain Beekeepers' Club, and is currently on the advisory board of the Ulster County Beekeepers Association. He was a consultant for the CNG (Certified-Naturally-Grown) Apiary Standards for their Certification Program.
Biography of Grai Rice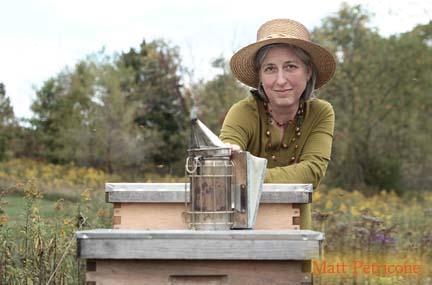 Grai St. Clair Rice is an organic beekeeper, as well as writer/photographer/filmmaker living in NYC. Grai is co-founder of HoneybeeLives with Chris Harp. Grai is a native of New York City and describes herself as a city girl with a country heart.
After ten years as an Editor/Producer at CNN's New York Bureau, and many years before in the film, art and publishing worlds, Grai's focus turned to beekeeping and writing. With her love and knowledge of Honeybees she is able to use her talents to encourage a better understanding and appreciation of Honeybees by the public at large, and help nurture beekeepers to embrace a gentle and spiritual approach to their care.
Grai is founder of the contemporary Ulster County Beekeeping Association and was it's first President for five year. Grai lectures on gardening for Honeybees, and co-teachs some of the beekeeping classes. She is working on two different books about honeybees and beekeeping. She is thrilled that beekeeping is legal again in NYC, and tends a couple of hives in the city.